Less is more with Ceres, and beautifully so. This modular shopfitting and shelving collection offers a pleasingly pared-back look that allows all kinds of retail products to shine. Available in black and white, Ceres is simple yet striking.
Versatility built in
Ceres comes in two heights and fixtures include shelves, rails and display boxes.
Modular design
Ceres is modular so it's incredibly easy to reconfigure, rearrange, extend and expand.
Built to last
You can count on Ceres's welded frames, high-quality materials and durable construction.
Shop Ceres shelving by retail sector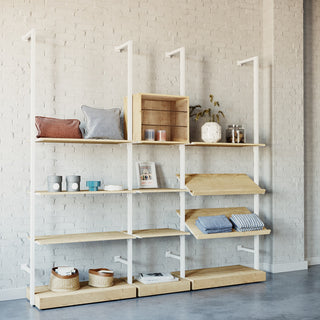 Shelving for homeware shops
A stylish way to showcase home accessories
Contemporary Ceres shelving units offer the perfect way to display stylish homewares and decorative accessories, anything and everything from handmade ceramics and glassware to table linens, dinnerware and kitchen tools.

It's a practical choice too. Designed for maximum flexibility with height-adjustable shelves, it's ideal if you need a shopfitting solution that works for tall vases and lamps as well as cups and plates.

Ceres is offered in two heights and a selection of frame- and shelf finishes in our online store. Explore more finishes and custom variations by contacting us with your request.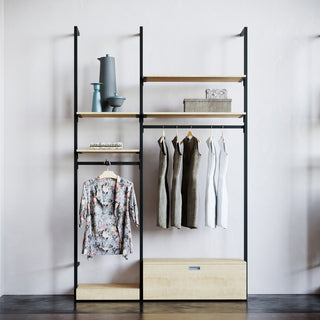 Shelving for fashion boutiques
An elegant look for clothing stores and shoe shops
Whether your focus is designer clothing or vintage finds, the Ceres shopfitting system is every bit as stylish as anything you might display on its rails and shelves.

Thanks to its linear look and contemporary finish, Ceres quickly adapts to new product ranges and seasonal shifts from, say, winter coats to summer blouses. Simply raise or lower shelves, add extra rails or even extend entire units.

Ceres is offered in two heights and a selection of frame- and shelf finishes in our online store. Explore more finishes and custom variations by contacting us with your request.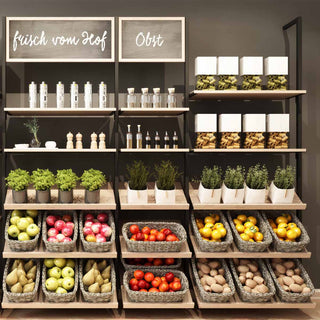 Shelving for fine foods stores
An appetizing choice for speciality food shops
With a naturalistic finish that speaks to product quality and authenticity, Ceres makes light work of displaying fine foods and beverages in organic groceries, delicatessens, tea and coffee shops and wine merchants.

Adjustable fixtures allow Ceres to quickly adapt to new ranges, while sloping and horizontal shelves make it easy to present complementary products side by side. Heavy items? Ceres's sturdy shelves won't let you down.

Units come in two heights and in a choice of three shelf finishes in our online store. Would you like to see more finishes or need a custom size, do not hesitate to contact us with your floor plan and ideas.
Create your own customised shelving
We've already created a range of ready-made Ceres shelving units specifically for fine food stores, clothing boutiques, homeware stores and more, but if you want something different it's easy to design your own by choosing from the Ceres components below.

Need help creating your customised Ceres shelving? We offer a free planning and design service. Get in touch to learn more.

Frequently asked questions
Ceres in our customer's stores
Need some inspiration? Here's a few examples of our Ceres shelf in our customer's stores. Check out our Instagram for more.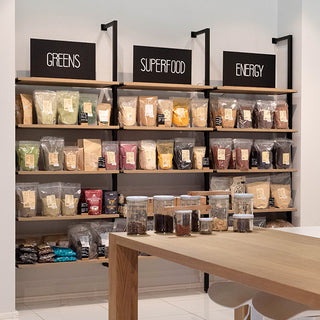 Mana Ernährung
Switzerland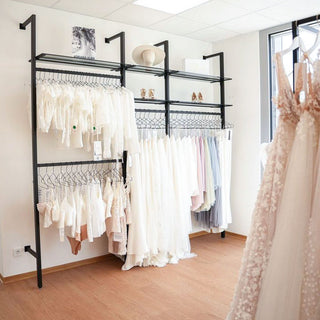 Ivory & Blush Bridal Concept Store
Germany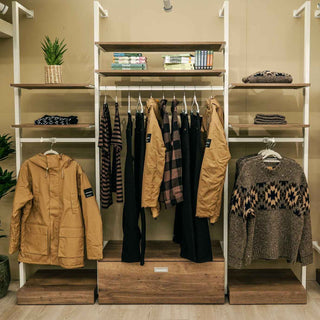 Yarnton Home & Garden
United KIngdom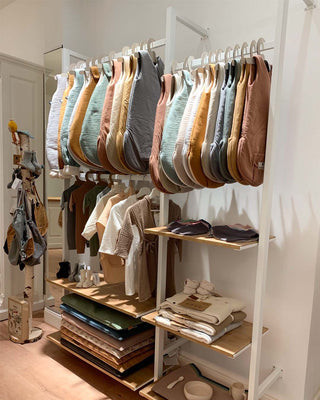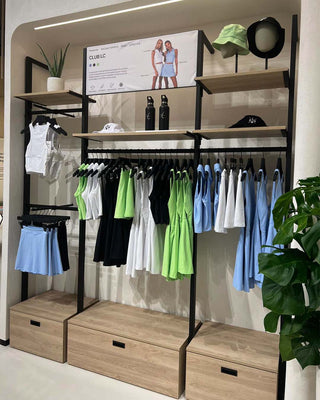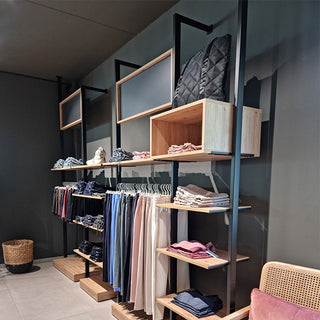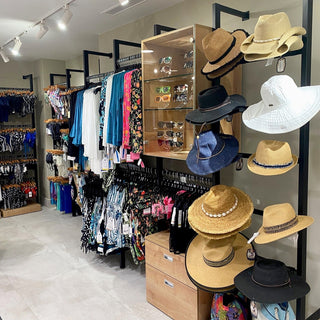 Red Sail Sports, Hyatt Resort
Aruba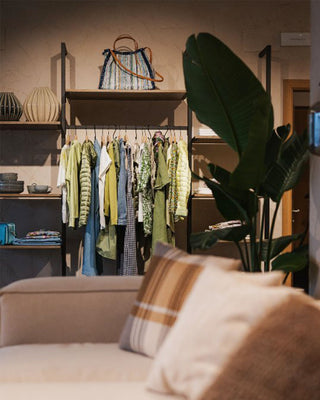 Marlene's Fashion & Café
Italy
Ceres shopfitting and shelving system 
Simple, clean and minimal Ceres shopfitting system is the perfect choice for any contemporary retail store whether you sell fine foods or bridalwear.
Choose from a wide range of thoughtfully designed and well-crafted shelving units. Everything is available in three beautiful wood decor finishes, or we can help you create a customised look by selecting from our range of hundreds of bespoke finishes. Choose black or white metal to complement the overall aesthetic of your store.
Even better, Ceres shelving is so easy to adapt and change. You can raise and lower existing shelves and rails – they simply unhook from the vertical metal supports – and additional shelves, rails and other fixtures can be added with ease as you create your unique shop shelving unit. This modularity means that it can be quickly and easily updated and reconfigured when you introduce new product ranges.
If you don't see the Ceres shopfitting unit that's exactly right for you, please get in touch. Our team of interior designers is here to help you put together the perfect shelving for your retail store.
Get in touch
Do you have questions about our products or need professional advice? We'd love to hear from you.