Designed to maximise your space
Our modular shelving system Cetus has been designed specifically for the attractive presentation of smaller items such as supplements, cosmetics and vitamins. With a shelf depth of 31.5 cm, it allows plenty of space to display your products without taking up a lot of room in your store. This makes it ideal for pharmacies, apothecaries, jewellery stores and cosmetic shops or smaller spaces in general.
Flexible and endlessly variable
Featuring a wide choice of components such as storage drawers, shelves or presentation boxes - you can create a shelving set up that suits your space and product range.
And you benefit permanently too. A perforated backgrid means you can quickly adapt the height of your components in 5cm increments to accommodate changing product lines.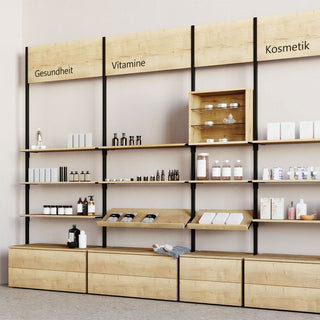 Guide customers through your store
A popular element for shelving used in pharmacies or health stores are display boards. They provide an aesthetic way to signpost different product areas, helping customers navigate your store and find what they're looking for.
They can be height adjusted in 5cm increments or removed whenever needed, making them extremely practical and easy to use.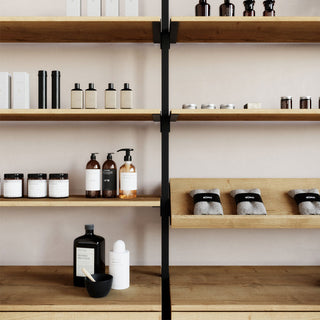 Make it your own
Choose from the pre-configured four styles on our website or simply contact us with your wishes if you would like a different combination. We're happy to help you plan your space with our products and provide a non-obligation quote.
Cetus in our customers´ stores
Here´s a few examples of our Cetus shelving in our customer's stores. Check out our Instagram for more inspiration.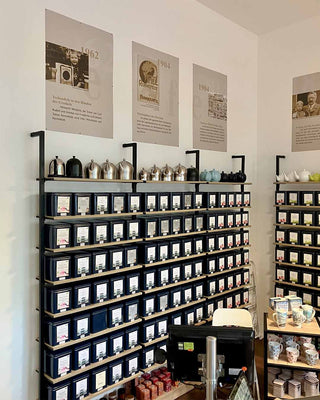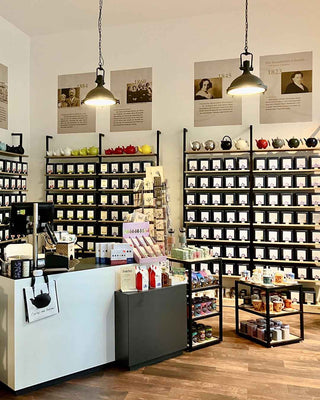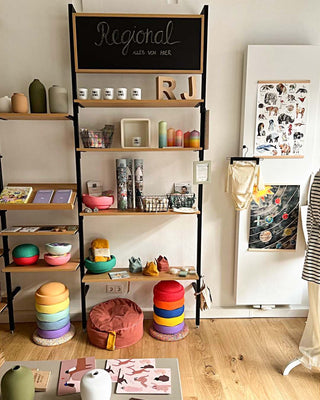 Romi & Juli Concept Store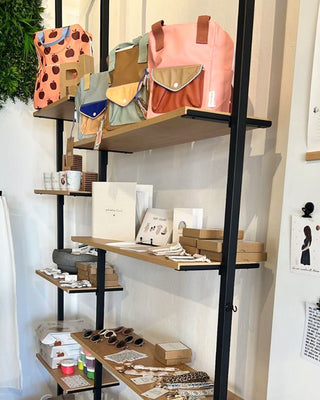 Shopfitting system Cetus - open shelving for apothecaries, pharmacies, cosmetics stores
Perfect use of retail space
With rising prices for rented commercial space, the desire for effectively used sales space is increasing.
The Cetus shelving system is a combination of design and functionality with storage boxes, adjustable shelves, pedestals and display boards - all to make professional product display possible for bottles, flasks and cosmetics.
Additional elements can be added flexibly and quickly when changing the product range or expanding.
Ideal for smaller stores
The powder-coated steel frame is scratch-resistant and the shelves, boxes and boards come in the finish of your choice.
Equipped with Cetus, all is organised, stored and framed combining open storage and beautiful display even in small apothecaries and cosmetics stores.

Our modular shelf Cetus will become the focal point of any shop while making the most out of your space.

Uncomplicated assembly - DIY!
Assembly is simple and quick and the modular components can be moved, added and removed without tools any time.
With our modular shelf Cetus, you utilise the wall- and floor space in your cosmetics shop, pharmacy, health- and lifestyle store to the max.
The logo boards make the design possible to be completely bespoke and exclusive for your brand.