Shop counters and checkout desks by Mandai Design
The cash desk is one of the most important pieces of furniture units in a store. Its perfect appearance and matching style to the shop furnishings make it an attractive focal point in the sales area. It doesn't matter whether it's a classic retail shop, a beauty salon or a doctor's practice. The checkout is like a bespoke business card. It represents your company and brand in style.
About shop counters from Mandai Design
Custom-made sales registers, made in Germany.
Sales counters that you buy from Mandai Design are produced in our own factory and are therefore guaranteed to stand for convincing quality, made in Germany. Like all our high-quality shopfittings, we also offer our counters at fair prices. If you need a bespoke unit for the reception or showroom, you can have it individually manufactured to fit your brand – add your colour or experiment with an industrial look.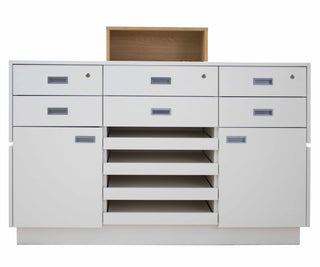 Practical checkout points with plenty of storage
In addition to a good design and high-quality workmanship, the cash desk is also important for its convenience in daily business operations. Easy-to-clean top- and inside surfaces with ample storage space for bags and technology are critical for a uninterrupted business flow and maximised convenience. High-quality full-extension runners for drawers and shelves make it a practical shop counter.
Checkout desks with distinctive and bespoke designs
Individually manufactured cash desks
As our shop counters are modular, we can adapt the size and design to your individual needs at your request. You can also choose from various material options available. As a rule, our shop counters are made of wood. A variety of decors and colours are available – from classic to rustic or bold. Add combinations with metal and glass display cabinets for an on-brand display unit. Just give us a call or send us an e-mail with your ideas for your individual sales desk.
Counters for stores, office and reception
You can expect professional advice from us. The satisfaction of our customers is important to us. That's why we offer you many options to customise our checkout units so that they correspond to your ideas for highest convenience.
Choose from our versatile range of premium cash desks and save time and money.
Checkout desks with special equipment
On request, we can equip your counter - add a glass display or showcase. Or would you like a checkout unit with a monitor panel, cash drawer or bag tray? Add backlit pedestals, logos or fronts also give a counter that certain something. Should your shop counter be disability accessible? Or are you not quite sure what your desk should look like? We will be happy to advise you on additional design options and create the perfect till with special equipment.