The retail display table - a classic among store furniture
A high-quality, aesthetically designed retail display table shows your products in the best light and sparks the curiosity of customers. As a presentation table, it is more than just a display. At Mandai Design you will find stylish display tables in modern design - quality Made in Germany from our own production.
About display tables from Mandai Design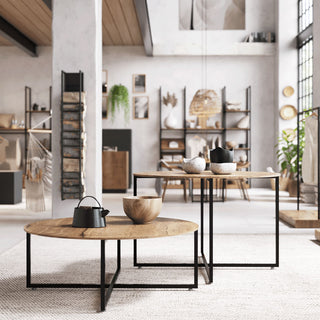 Customisable and made in Germany.
Display tables made of wood and metal are manufactured in our own factory. Bespoke dimensions and designs of the tables are therefore no problem. High-quality table tops made of solid wood or even fine stone tops are an excellent option for display tables. Depending on the intended use, the table frame can be matched in colour and, if required, also in design to an existing shop fitting.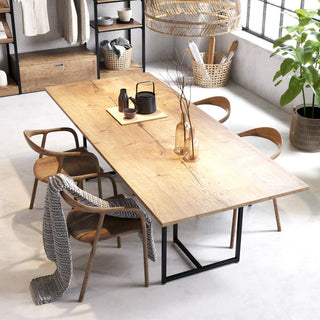 Distinctive and unique designs
Our distinctive table designs help to create a special flair in your sales rooms with a high recognition value. Our display tables impress with their unusual materials and surfaces. Modern, straight-lined and functional designs come together with elements in retro and industrial looks. Here, the presentation of goods on display tables becomes something special.
Display tables in our client stores
Need some inspiration? Here's a selection of customer photos that were kindly made available to us. Check out our reference page for more.
Rostocker Fellnase, Germany
Hornmanufaktur Petz, Austria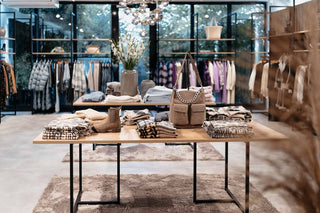 Functional furniture that presents your products beautifully
Silent salesmen for your store
Display tables play an important role in the shop concept. An attractively designed table invites the customer to stop, touch and look closely at the goods - this way, the customer can experience the product directly and develop his or her desire to buy. In addition, a display table offers excellent opportunities to highlight certain products. This makes it indispensable for special sales and the focal point of sales promotions. As a silent salesman, it presents new product arrivals, acts as a place for customers to stop and thus extends the time the customer spends in the store.
Increase the likelihood of a purchase
A stylishly decorated display table increases the likelihood of a purchase. This is because, in addition to its function as a product presenter, customer conversations also take place at the display table. Sales assistants show and explain the advantages of individual products to customers. You can clearly demonstrate functions and product details at the retail display table. There is no more convincing way to advise customers.
Versatile presentation possibilities
Display tables are an essential element of any shop floor. They are versatile, space-saving and effective. Display tables are perfect for presenting folded clothes or accessories such as bags. Homeware goods such as baskets, vases or storage boxes can also be displayed beautifully.
In addition, display tables can easily be moved around the showroom floor, giving you flexibility. Whether it stands in the middle of your shop flooror is positioned against a wall – display tables from Mandai Design will show your products in their best light.