Display cosmetics beautifully with shopfittings from Mandai Design
A beautiful interior is crucial for beauty shops, cosmetics boutiques, beauty salons and spa areas. Mandai Design offers the right shop fittings from shelving to shop counters, reception desks and more.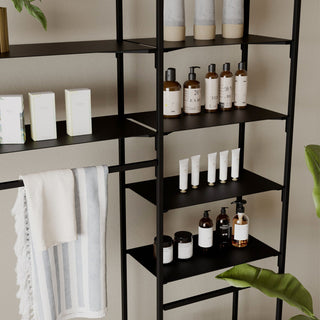 Shelving system Slimline
The right display shelf for wellness products
An ideal way to display cosmetics is with the right shelving. Open shelving systems with glass shelves create an open, airy atmosphere. Depending on the type of cosmetics, wooden shelves might be a good choice to display organic, natural products. Our Slimline shelving system is very flexible, can be set up in different ways and can easily be adapted.
Stylish and harmonious shop design
Whether cosmetics or wellness, customers associate both with beauty and relaxation. Customers expect an aesthetic and harmonious atmosphere. When furnishing a beauty salon, it is important to take this into account in the overall concept. With our modular shop fitting systems, you can set up your studio or spa area quickly and easily. Beautifully designed shop fittings and shelves for the stylish presentation of cosmetic products promote sales. In addition, this gives your customers a unique experience.