Modular shelving systems as an open wardrobe
Our modular, high-quality shelving systems make it easy to create your dream walk in closet. With our flexible systems, you can create your dream open wardrobe quickly and easily – with complete flexibility.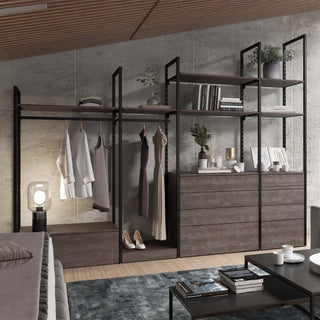 Open wardrobe systems or built-in wooden wardrobes
If you are planning a walk-in wardrobe, the question quickly arises as to what type of wardrobe to use. The classic variant is wooden wardrobes or built-in wardrobes made of wood. These are installed in niches, sloping ceilings or even in separate rooms. This type of wardrobe is made to measure by a furniture maker or carpenter and installed with centimetre precision. Wardrobes made of metal and glass are also very on trend today. Their open design brings a certain lightness to the room. The feel-good factor that you know from a visit to your favourite boutique thus comes into your own four walls.
Walk-in wardrobe shelving system - not off the shelf
Our shelving systems were designed for professional use in high-quality boutiques and showrooms of well-known fashion labels. Uniqueness and exclusivity characterise our shelving systems. A walk-in wardrobe equipped by Mandai Design is not off the shelf. Functional details such as height adjustability and modular construction are unique and practical. Benefit from concepts from exclusive fashion stores for your personal walk-in wardrobe.
When you move house, your open wardrobe moves with you
Personal changes such as moving house are part of life. It's good to know that your individual wardrobe system is also prepared for this challenge. All our shelving systems for the walk-in wardrobe are modular. They can be easily assembled and disassembled by yourself. If you want to add elements for the open wardrobe later or adapt them to the room, this is almost always possible. The cost savings of a flexible shelving system compared to complex and expensive wardrobe installations are significant.