Displaying fashion beautifully.
Present your clothes, fashion and textiles beautifully with shopfitting systems from Mandai Design. Whether you sell bridal wear, evening dresses or casual clothes - our collection of racks, rails and sales shelves will showcase your assortment perfectly.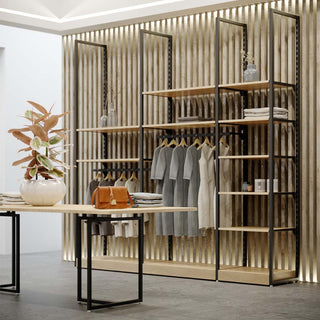 Addison shelving system
Timeless and elegant
The Addison shop fitting system offers the ideal basis for the stylish presentation of products. A simple, clear silhouette and high-quality materials characterise this timeless shelving system. Metal in combination with wood or glass are the central elements and give the retail shelf its elegant look.
Ceres shelving system
Modular and flexible
With the Ceres shopfitting system, you can change whether clothing is displayed hanging or lying down in just a few simple steps. Shelves and rails can be hooked into the vertical wall columns without the need for tools. These flexible presentation options are a great advantage, especially during seasonal changes or sales promotions. Details such as height-adjustable shelves and universally usable back bars ensure understated elegance.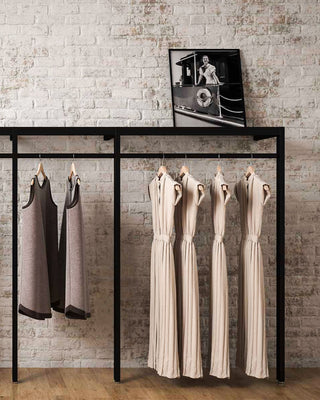 Glasgow clothing rail system
Simple elegance, clean lines.
Clothes rail systems can present plenty of clothing items without taking up much space, and score points with a modern look. As a wall-mounted clothing rail with a minimalist design, Glasgow can be elegantly integrated into a wide variety of rooms. Simple but chic, the Glasgow clothes rail is particularly well suited to back walls made of natural stone or other particularly attractive walls. However, the timeless, linear design also enhances a plain walls and integrates harmoniously into rooms with different styles.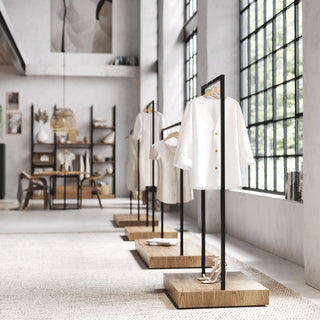 Racks and rails
Distinctive designs
Clothing rails and racks offer excellent opportunities to present clothes in a space-saving manner and sorted by sizes or colours. But they also provide valuable services when it comes to dividing up space within shops, thus helping to optimise the customer experience and systematically guiding people through the store. At Mandai Design, you will find a wide range of clothing rails for a variety of uses - in distinctive, attractive designs and outstanding build quality.
Customer pictures
Need some inspiration? Here's a few examples of our products in our customer's fabulous fashion stores.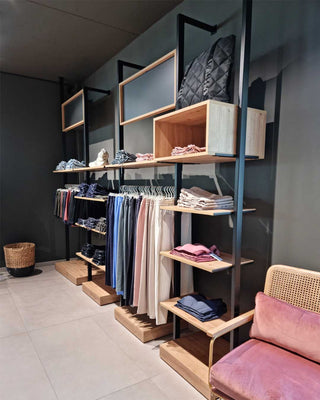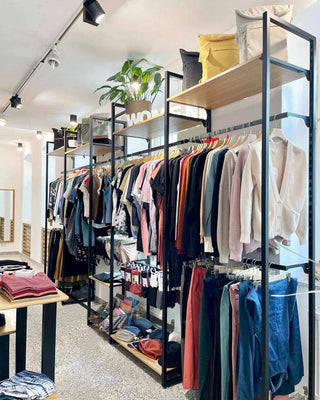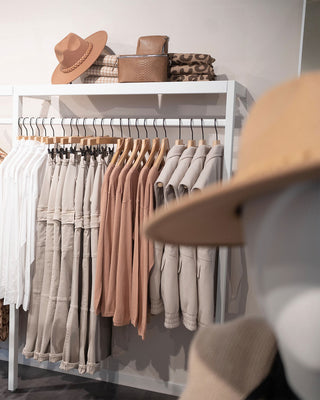 Clothing rail Glasgow
Textilium Fashion Group, Germany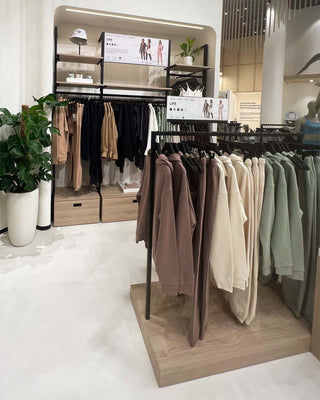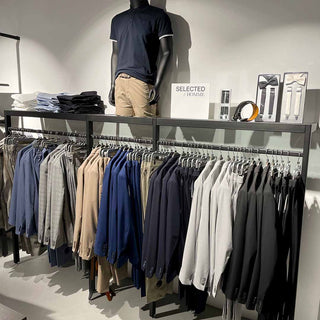 Clothing rail Glasgow
Unweit Berlin Concept Store, Germany
Shop fittings for clothes stores - displaying fashion beautifully
Important details about shop fittings for clothes store
A shopfitting system for fashion boutiques has to fulfil many additional functions that are important to consider when furnishing a clothes store. From the correct depth of a shelf to the optimum height of the centre unit furniture, every detail should be taken into account at the planning stage. In our professional shop fitting systems for fashion and clothes, we have already integrated these crucial practical functions. Today's customers want to be surprised by
emotionally appealing shopping experiences. Be successful and equip your
fashion shop with modern shop fittings.
Shopfitting systems for the back wall - open or closed?
Depending on the style of furnishing and the nature of the salesroom, the question of the right wall system often arises. Years ago, walls in a textile shop were often completely covered with a closed shelf. In nowaday's fashion industry however, the trend is towards open shelving systems. If you have a beautiful old brick wall for example, the Glasgow open shopfitting system is the perfect solution for presenting hanging clothes. At the same time, you save a lot of money on expensive shopfitting.
Modular and flexible - ideal shopfitting furniture for clothes stores
With the trendy Addison shelving system or the timeless Ceres shopfitting system, you are ideally positioned for the fashion industry. Height adjustability and display units tailored to the clothing retail sector are standard. Our modular shop systems are flexibly constructed and can be perfectly adapted to the respective premises. Assembly and installation of our shelves are quick and easy thanks to a well thought-out design.
Modern shop furnishings contribute to retail success
The success of a boutique or fashion store depends on many factors. Besides the location and the right merchandise, it is mainly the external appearance of the shop. In stationary retail, the choice of shop fittings is paramount. Today, clothes are found on every corner. But in order to attract customers from your target group and ready to buy, the clothing shop must be perfectly staged. A modern shopfitting system stands out from the competition not only with beautiful design, but also with various design options it offers to set the stage in the shop.