For your bridal shop to succeed in the wedding fashion business, the right shopfittings - retail shelving, racks, rails and hangers are a must. The interior of the bridal showroom must do the brand storytelling for you. Modularity and flexibility in is vital - especially in a compact retail space or at wedding fairs and events.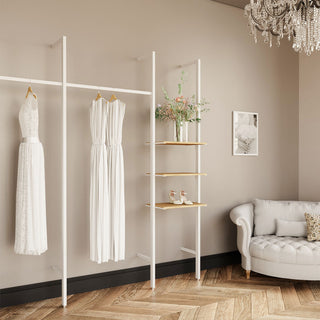 Shelving system Ceres
A modular shelving system for your bridal boutique.
Ceres creates a clean canvas for your dress- and accessory collection. The timeless frame gives space for graphic- or historical walls.
You can make Ceres individually yours - add storage boxes, pedestals, bars and shelves as needed and fit them in without tools.

Dress racks and rails
Racks for elegant and reliable presentation
The build quality of our racks is on par with heavy-duty industrial standards without compromise in style. This makes our clothing rails especially suitable for wedding shops. Our classic Como, characteristic Kansas or unique Jade all offer various hanging heights and customised finishes. They can also be used to make sections for bridesmaids dresses, or partitioning.
Clothing Rail System Glasgow
Secure fashion wall display
A bridal shop requires reliable clothing rails to hang heavy, wide and a variety of dresses. We developed our wall rail system Glasgow with these needs in mind - height, weight and construction to suit the fashion industry.
The unobtrusive contour makes for a perfect clothing rail with valuable shelf space on top for accessories, veils and shoes.
Additional retail furniture
Impeccable for the salon and events
For complete shopfittings, add display tables or cubes to provide space for hair accessories, shoes, jewellery and floral arrangements.
The cubes are especially practical nested together or standing separately - centrally or along walls, alone or combined with racks. They also work as bases for mannequins or in your shop window.
Display tables, cubes and racks for salons
Our shopfittings and furniture in bridal boutiques
Here is a selection of photos that were kindly made available to us by our customers.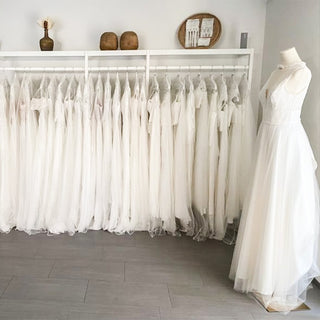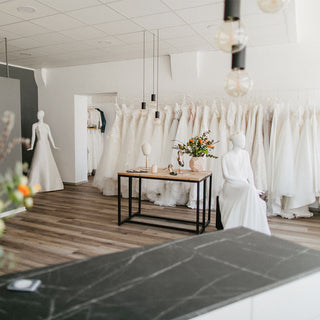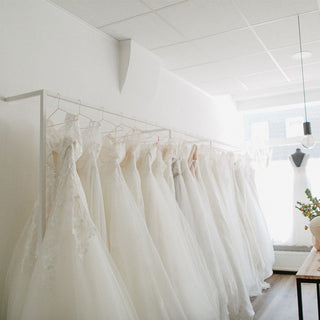 Retail shopfittings for bridal salons and fashion stores
Retail fittings for wedding shops
For your focus to be channeled to tailored service, the rest of the bridal showroom must do the work of impression and brand storytelling impeccably.

Equipped with shopfittings which carry, store and display gowns, shoes, tiaras, veils, flower arrangements elegantly you are guaranteed peace of mind and focus on bespoke service and concept development for each client.
Retail furniture and racks for events
Wedding fairs and shows are a precious opportunity where you demonstrate your collections and wedding services.
Here, your clothing- and gown racks and display tables must work effectively for you to focus on contact and making a lasting impression. Retail fittings you can trust are is therefore a strategic investment.
Our tables, cubes and clothes racks are reliable to bring along and make product presentation look beautiful time.
Modular bridal shopfittings
All our shopfittings are modular and can be ordered to suit your individual brand and salon interior.
Create focal points, display walls and sections for bridesmaid dresses, bridal accessories and decor.