The Brooklyn shopfitting system exudes industrial charm that captivates both up close and from afar. Its unique design delivers a bold and striking presence in any retail setting, showcasing prominent bolts and robust metal wall uprights in typical industrial style. Like all our shelving, Brooklyn is designed to for hassle-free assembly and maximum modularity.
The display options are endless with the included shelves and bars and can be further personalised by adding hanging arms and pins.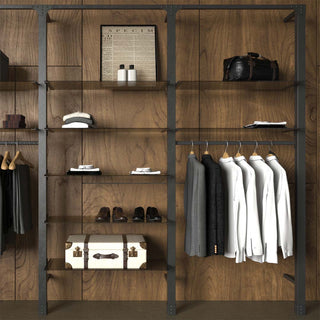 Brooklyn shopfitting system - bring in industrial style into your retail space
Set cool accents in your shop and give it the flair of the good old days of a factory. Individual shop counters and matching display tables become brilliant eye-catchers.
Equipped with the Brooklyn shopfitting system with glass- or wooden shelves, your shop or showroom is sure to make a lasting impression.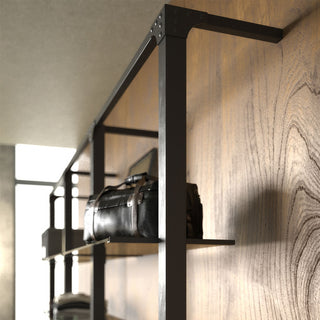 Brooklyn shelving system - uncompromising functionality and style
In terms of practicality, the horizontally adjustable wall system knows no compromises. All standard display fittings such as shelves, support bars and front arms make this shelving system an all-rounder for selling and presenting your products. With 625 mm and 1000 mm centre-to-centre dimensions, the Brooklyn wall system can be adapted to all individual room dimensions.
Depending on the spatial conditions, the Brooklyn shopfitting system can be combined with concrete or darker wood. Unrendered wall surfaces or bricks effectively emphasise the industrial look.