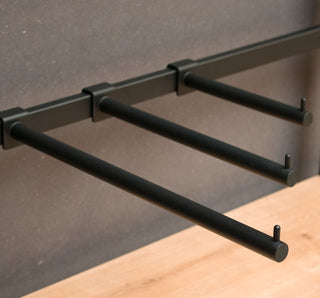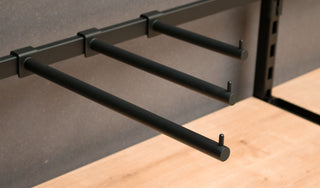 Display fittings that present your products in the perfect light
At Mandai Design, you will find display fittings with which you can present your goods in the right light in a wide variety of ways - from front arms to shelves. All display fitting systems have been specifically developed for the respective shelving system or shop fitting system. Back bars, front arms and fashion rails are therefore always compatible. The same accessories are also used for the presentation of goods and the fitting of freestanding furniture. We offer powder-coated surfaces in the usual RAL colours. With their high-quality finish, these shop fitting accessories support the perfect presentation of your goods.
High-quality display fittings for shelving systems in various retail sectors
We want you to find the right solution for your product presentation. Display fittings must be perfectly suited to you and your range of goods. That's why we have perfectly matched display fitting systems for different retail sectors, from fashion, homeware to fine foods.

Simply contact us if you have any questions. We are also happy to support you with special solutions. If you want to add individual components and display fittings to your shopfitting system at a later date, it is no problem to buy them from us. You can also buy them online at any time.