Clothing rails and racks - versatile for presentation and area design
Clothing rails and racks are particularly in demand in the fashion retail sector. Here they offer excellent opportunities to present clothes in a space-saving manner and sorted by sizes or colours. But they also provide valuable services when it comes to dividing up space within shops, thus helping to optimise the customer experience and systematically guiding people through the store. At Mandai Design, you will find a wide range of clothing racks for a variety of uses - in distinctive, attractive designs and outstanding build quality.
About racks and rails from Mandai Design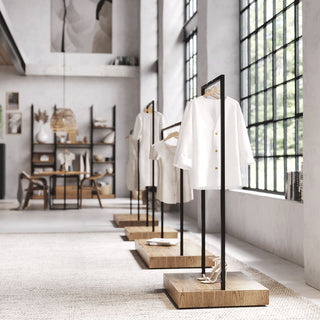 Stylish clothing rails - individual, versatile and suitable for everyday use
In everyday sales, it is often necessary to redesign the retail space in order to offer the customer an interesting shopping experience or to optimally present a changed assortment. Clothing racks can be easily and effortlessly repositioned without having to remove the clothing first. Thus time and cost-saving rearrangement is possible. Together with other elements of the shop fittings such as display tables or gondolas, clothing racks can be designed to create inviting and varied shopping landscapes that ensure a positive shopping experience. This way your customers feel good and will be happy to come back.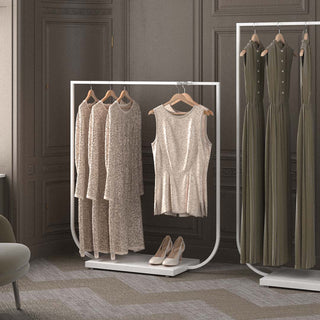 Clothing rails - flexible, space-saving and decorative
Modern rails must be able to fulfil many different tasks. For a fashion shop or a pop-up shop, we offer stylish clothing rails for a varied and appealing presentation of goods - for example, the Magic Rail TS. Here you can present fashion and clothing perfectly. Or the Como ready-to-wear stand. With a height of 172 cm, it is an ideal clothing rail for bridal wear and long evening dresses. Our ready-to-wear racks are very stable because they are firmly welded as standard. We are happy to manufacture special sizes and other variants on request.
Racks and rails in our customer's stores
Need some inspiration? Here are some photos of our racks and rails in our customer's stores. For more inspiration, check out our reference page.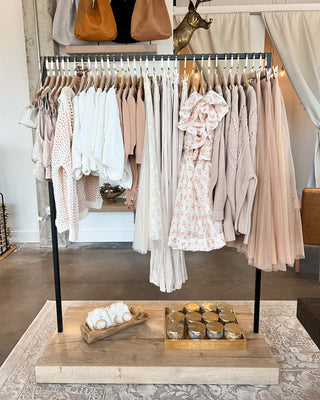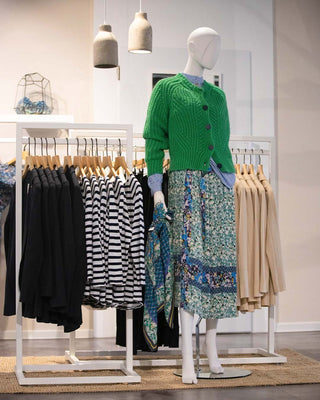 Como rack
Textilium Fashion Group, Germany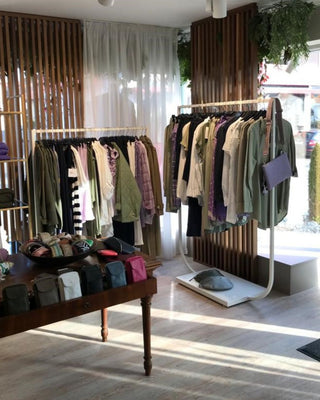 Jade rack
Mila Fashion, Austria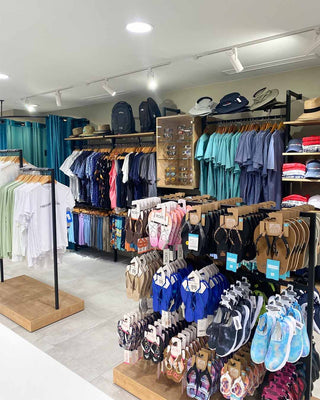 Kansas rack
Red Sail Sports, Aruba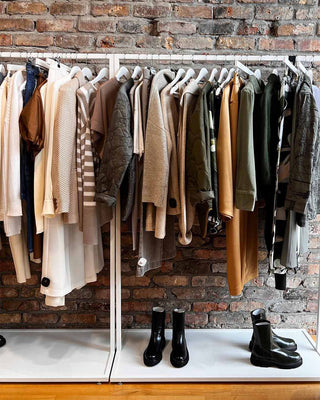 Como rack
Gallery 9, Ireland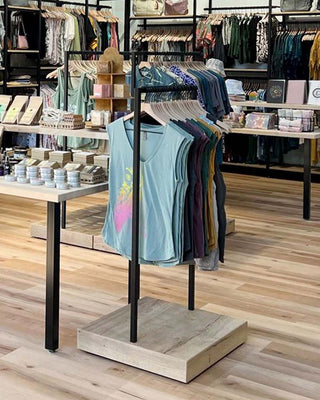 Kansas rack
Pueo Boutique, Hawaii