Shopfittings and stylish retail furniture
Are you looking for a modern shopfitting system or furniture for your store? At Mandai Design you will find trendy store furniture and shelving to help you create an exclusive ambience with shop shelving, clothing rails, shop counters and more.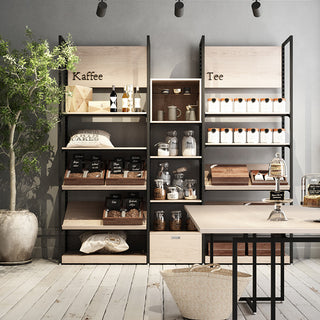 Modern store furnishing as a success factor in retail
In order to sell successfully and get customers excited about your products, a professional store appearance is crucial. This includes not only good staff but also modern shop fittings. An attractive store is an important success factor in the age of increasing online trade. Customers who visit stationary stores prefer a pleasant shopping atmosphere. This is significantly influenced by the interior design of the store.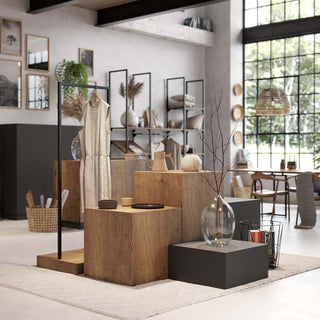 Perfect shop design through coordinated shopfitting systems and furniture
A complete renovation or new shopfitting is not always required to upgrade the look and ambience of a shop. A store can be quickly and individually refreshed with just a few pieces of furniture such as sales shelving. Our shopfitting systems, clothes rails, sales tables and shelving solutions are perfectly coordinated and can be easily combined with each other to create a cohesive and aesthetic look.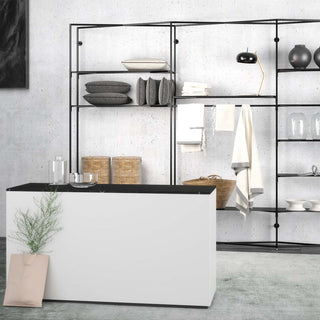 Put together your individual shop interior design
Whether you need a sales counter or reception desk for a beauty salon, a cash counter for a retail store or a display table for a boutique: Simply combine the matching furniture for your individual store interior. We offer you high quality retail furniture and modular shopfitting systems for different retail branches and concepts.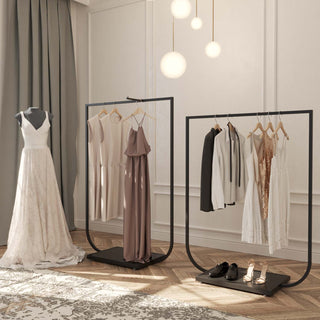 Store design - it all depends on the right furnishings
Store equipment is an investment that must be well planned. It is costly and will accompany you for a long time. As a manufacturer of store fittings with more than 25 years of experience in individual shopfitting systems, you will receive your counters, rails and shelving from an expert. We will be happy to support you in planning and help you choose the right retail furniture for your store, based on your space and individual requirements.