Attractive shelving systems for individual shopfitting
At Mandai Design, you can buy high-quality shopfitting systems online and with expert advice. Create an appealing and sales-promoting ambience for your customers with modular shelving systems. Whether for the new opening for a store, for the smooth conversion of sales areas or for the uncomplicated set-up of shop-in-shop areas.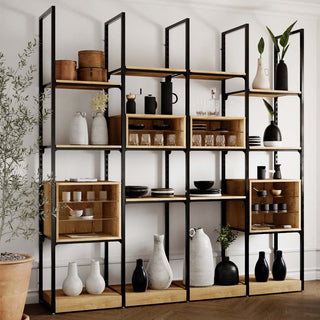 Modular retail shelving systems - huge benefit for a modern shop design
Our attractive store fitting systems are modular and flexible in design. When changing the assortment or changing the space, you need a height-adjustable and expandable store equipment. Our shelving systems, wall systems and sales racks can be easily adapted to changes and new challenges. Display units such as shelves and rails can be changed within a system without the need for tools and without taking up much time. The flexible presentation of goods and products is thus optimally supported at the point of sale.
Retail shelving systems for many sectors and concepts
Another advantage of our retail shelving systems is their versatility. Thus, the use as a classic shelving system or sales shelving in different retail sectors is no problem. Many series, shelving systems and components are specially adapted to their needs and the assortment. All display units are height-adjustable within a store fitting system and are always compatible. Thus, the store equipment perfectly fits your concept and the corresponding target group of customers.
Saving costs through assembly-friendly design
In the past, many furniture systems could only be assembled by trained specialists due to their design. This is not necessary with our store fitting systems. An assembly-friendly construction and design ensures a smooth self-assembly that is uncomplicated and safe. Set up your store like a professional.
Expandable shelving systems even for complicated spaces
Often the premises are not always suitable for the use of standardized solutions. Many systems have to be permanently mounted to the wall. Freestanding shopfitting systems, such as the Addison shop shelving system, can also be installed without being fixed to the wall. The height of almost all shop shelves can be adjusted to local conditions. Store fittings often require additional storage space. Our shelving systems optionally include pedestals or storage boxes in the base area. The latter are equipped with plenty of storage space and convenient drawer pull-outs as standard. We are also happy to implement individual special requests for your new furnishings.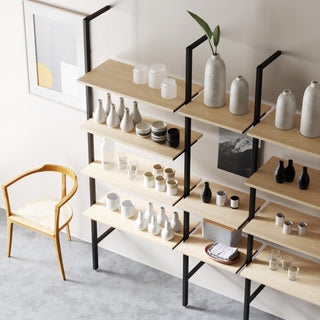 Display units for store fitting – even years down the line
Buying shopfitting systems is not a quick thing and must be well considered already in the planning stage. At Mandai Design, you can add to your store fittings even years later or reorder individual display units with accessories. Take advantage of attractive furnishing systems. Furnishing retail salesrooms has never been easier. Order your store fitting system online or take advantage of our telephone advice. We will be happy to send you a detailed offer and give you useful tips for the optimal interior design of your store.
Our shopfittings in client stores
Looking for inspiration? See our products in action in our client stores below or on our reference page.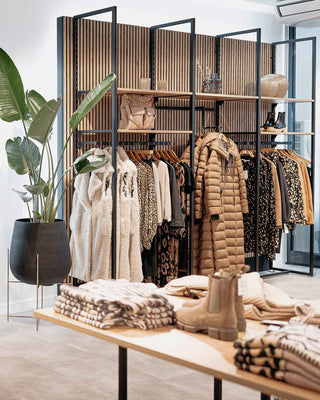 Shelving System Addison
Nexxt Mode, Germany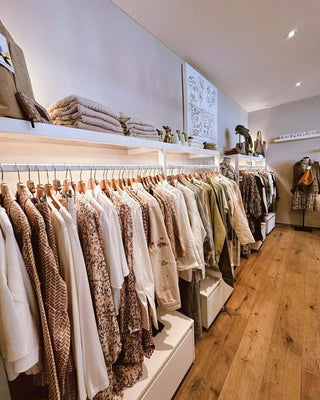 Clothing rail system Glasgow
Mont Bijoux Concept Store, Switzerland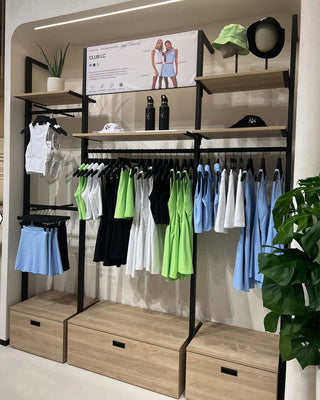 Shelving System Ceres
L´Couture, Dubai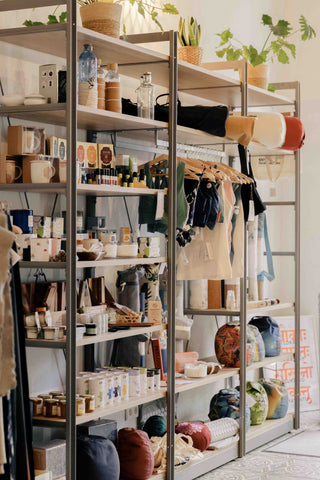 Shelving System Bergen
Mindful Life Yoga, Berlin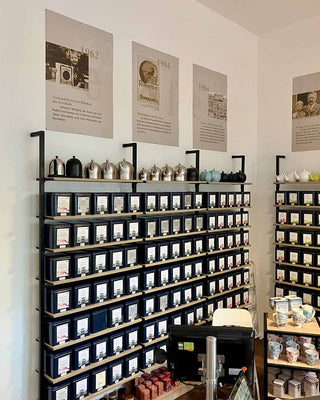 Shelving System Cetus
Tee Tea Thé, Germany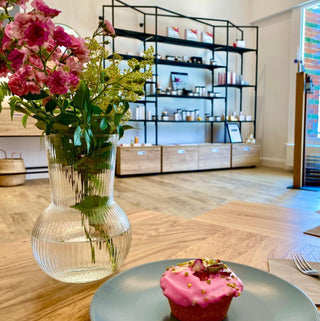 Shelving System Slimline
Lüne Beauty, Germany