Clothing rail system with simple elegance
A sleek design characterises the Glasgow clothing rail system. The cool aesthetics of the powder-coated steel construction together with smoked or clear safety glass exudes a serious elegance. This gives the room a certain lightness.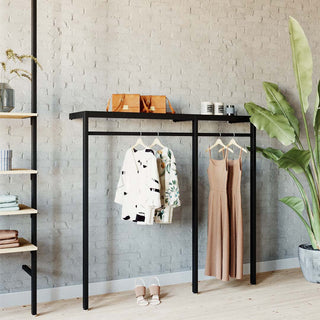 Benefits of the Glasgow clothing rail system
Clothes rail systems can present plenty of clothing items without taking up much space, and score points with a modern look. As a wall-mounted clothing rail with a minimalist design, Glasgow can be elegantly integrated into a wide variety of rooms. Simple but chic, the Glasgow clothes rail is particularly well suited to back walls made of natural stone or other particularly attractive walls. However, the timeless, linear design also enhances a plain walls and integrates harmoniously into rooms with different styles.
The wall-mounted clothes rail offers ample space for hanging clothes or collections. Glass shelves offer additional space to present accessories, bags or decoration.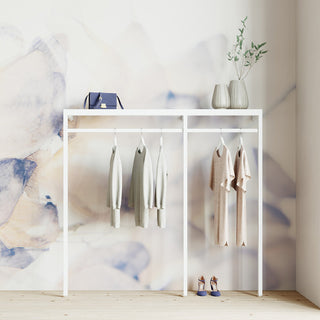 Space-saving solution for any size of space
There are many ways to present clothes, for example on a shelf, in an open cupboard or with a clothes rack. One should consider the overall concept and especially the size of the room. Especially in smaller sales areas, it can be difficult to find furniture that does not visually overwhelm a boutique. Minimalist furniture with straight lines is a good choice here. In this case, the Glasgow wall-mounted clothes rail with its simple design fits perfectly - and is also a space-saving solution.
If you have a large sales area, the advantage of the Glasgow clothes rail system is that the modular construction allows for expansion at any time.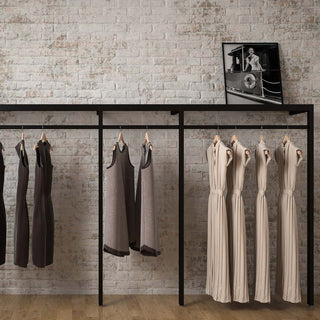 Versatile uses - coat rack, wardrobe or shop fittings
As a clothes rail for the wall, Glasgow is not only perfect for presenting clothing and fashion in the fashion shop, but also as a coat rack for the entrance area of doctors' surgeries, hairdressers' studios and beauty salons.
At home, too, Glasgow is perfect as a wall coat rack in the entrance area thanks to its easy wall mounting. But also as a an open wardrobe in your bedroom or dressing room. Especially metal clothes rails in industrial style are a popular alternative to the classic wooden wardrobe.
Glasgow in our customer's stores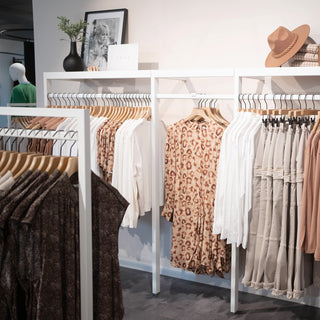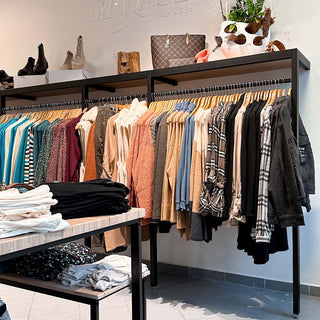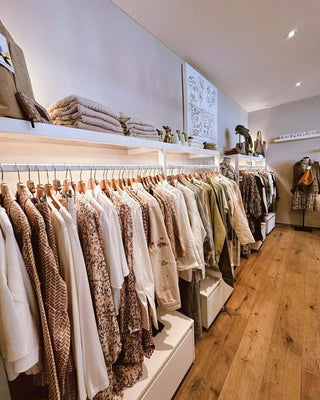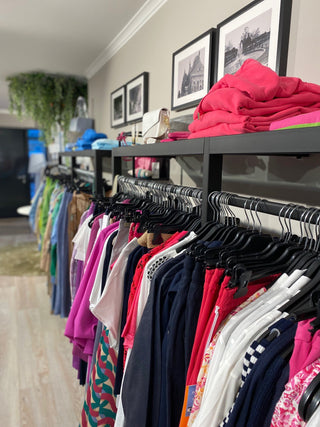 Clothing rail system Glasgow - modern shop fittings with style
Perfect use of retail space
With rising prices for rented commercial space, the desire for effectively used sales space is increasing. Glasgow, as a slim and straight-lined clothes rail system, offers a good alternative to the classic shelf or cupboard. Another advantage is the uncomplicated design. Additional elements can be added flexibly and quickly when changing the product range or expanding.
High-quality powder coating
The powder-coated steel construction is scratch-resistant and available in black or white. Both surfaces are matt and have a high-quality fine structure. Black reinforces a classic, industrial atmosphere, while white is lighter and more feminine. Both colours are classics and both timeless and modern.
Uncomplicated assembly - DIY!
Assembly is uncomplicated and can also be done by yourself. The Glasgow clothes rail stands on the floor as a complete construction and is only mounted on the wall in the upper area. Adjustable feet on the wall uprights facilitate accurate assembly if the floor is uneven. A fastening set with screws for wall mounting and assembly instructions are included in the delivery.