Ceres wardrobe system - individual shelving system for the walk-in wardrobe
The Ceres wardrobe system is light and elegantly designed. The simple and modern design of the shelving system leaves nothing to be desired for individual room design. Ceres is the perfect wall system for a walk-in wardrobe. With a wide variety of hook-in elements and modules, you can create your own personalised interior design.
Shop pre-configured wardrobes
Choose a pre-designed open wardrobe from our Ceres shelving system. Of course these can also be used for initial inspiration and customised.
Put it together yourself
Pick and choose from the following components to create the perfect open wardrobe solution for you. If you need any assistance, please contact us, we're happy to help!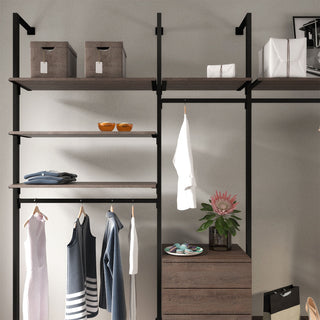 Shelving system with many design options
Thanks to the wide range of combination options, you will quickly find a solution that suits your ideas with the Ceres wardrobe system. Different centre-to-centre dimensions and different heights for the shelving system help you to optimally design your new dressing room. Integrate shelves and clothes rails at the desired height without tools or complete the Ceres shelving system with pedestals, storage boxes and chests of drawers. Simply design the room or niche the way you like it! Design your walk-in wardrobe just the way it suits you. 
Advantageous construction facilitates assembly
Thanks to its modular design, the Ceres shelving system for the walk-in wardrobe can be assembled quickly. The vertical wall uprights are screwed to a wall at the intended distance or the desired axial dimension. The adjustable feet allow the system to compensate for uneven floors and transfers the loads directly to the floor. A great advantage is that the weight of the shelving system does not hang on the walls. The Ceres shelving system is also a good choice for plasterboard or drywall. Thanks to the well thought-out construction method, assembly can also be carried out by the user.